Marine Gears
For intermediate duty, heavy duty and pleasure craft applications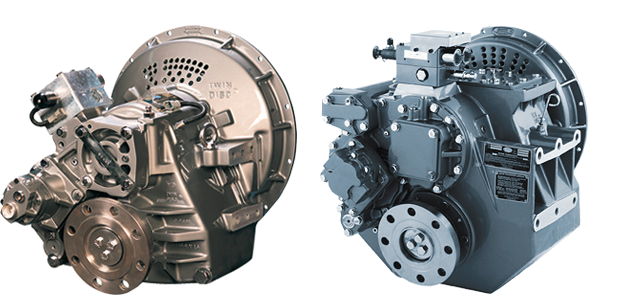 Twin Disc supplies the commercial, pleasure craft and military segments of the marine market with transmissions, surface and waterjet drives, propellers and electronic controls. No one in the world offers you more ways to make your craft move through the water more efficiently, more reliably, with more control. So if you want to make the most of your boat, put Twin Disc.
 
Features
Series MG Standard

Series MGX Quickshift®

Lightweight construction

Additional components as option

Mechanically or electrically controlled

From the smallest to the largest high-speed diesel-powered pleasure craft to a myriad of commercial boat applications, Twin Disc has marine transmission systems that precisely fit the horsepower and operating needs of each.

Standard marine transmissions feature helical gearing for quieter operation; hydraulic-operated and oil-cooled clutches for smooth, fast shifting; identical reduction ratios in forward and reverse, full power forward and reverse and minimal external plumbing.

Some models are available with down angle output to provide near-level engine installation, a feature of particular interest to boat builders for optimizing space within the vessel. For additional space savings, remote mounted V-drive and direct-mounted V-drive models are available.

Short response time

Smooth clutch engagement

System control by proportional valve

The Twin Disc Quickshift® transmission system has forever raised boaters' expectations of their crafts' performance and their own.

No other transmission offers such shifting speed, smooth-ness, slow speed control, precision boat handling and safety.
Combined with the Twin Disc EC300 Electronic Controls, the Quickshift® system provides unparalleled boat control under all conditions.

One for all Twin Disc designed the Quickshift® system from the ground up to be a totally integrated system of transmission, valves, actuators and controls — all engineered to precisely fit and work together.

This engineering elegance and resulting performance and reliability cannot be duplicated by competitive products utilizing add-on components. It all comes from Twin Disc — one system, one manufacturer and single-source support.
Applications
Ferries, container ships, passenger boats, police boats, survey vessels, fishing and pilot boats, tugs and official boats
 
Manufacturer
Twin Disc
Standard specifications Marine Reverse Gear

 

Series MG Standard

Series MGX QUICKSHIFT®

 

Duty class

 

 

Pleasure Craft

17 - 2856

368 - 2147

Light Duty

136 - 2743

351 - 1985

Intermediate Duty

13 - 2728

254 - 1715

Medium Duty

57 - 1973

208 - 2340

Continuous Duty

9 - 2322

199 - 1720

 

higher powers on demand

Speed ranges, type depending

 

 

Pleasure Craft

1600 min¯¹ - max 4500 min¯¹

2100 min¯¹ - 3500 min¯¹

Light Duty

1600 min¯¹ - max 4300 min¯¹

1800 min¯¹ - 3500 min¯¹

Intermediate Duty

1600 min¯¹ - max 5000 min¯¹

1600 min¯¹ - 3500 min¯¹

Medium Duty

1200 min¯¹ - max 4400 min¯¹

1600 min¯¹ - 3500 min¯¹

Continuous Duty

1200 min¯¹ - max 5000 min¯¹

1600 min¯¹ - 3500 min¯¹